Project Management Software
A Gantt chart is a type of bar chart, developed by Henry Gantt, that illustrates a project schedule. Gantt charts are easy to read and are commonly used to display schedule activities. These charts display the start and finish dates of the terminal elements and summary elements of a project. Terminal elements and summary elements comprise the work breakdown structure of the project. Some Gantt charts also show the dependency relationships (i.e., precedence network) between activities.
Gantt charts show all the key stages of a project and their duration as a bar chart, with the time scale across the top. The key stages are placed on the bar chart in sequence, starting in the top left corner and ending in the bottom right corner (Figure 10.8). A Gantt chart can be drawn quickly and easily and is often the first tool a project manager uses to provide a rough estimate of the time that it will take to complete the key tasks. Sometimes it is useful to start with the target deadline for completion of the whole project, because it is soon apparent if the time scale is too short or unnecessarily long. The detailed Gantt chart is usually constructed after the main objectives have been determined.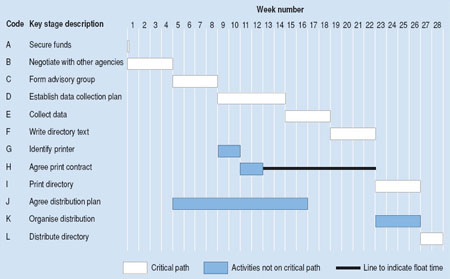 In this example in Figure 10.8, key stage K (Organize distribution) starts at week 23 so that its end point coincides with key stage L (Distribute directory). However, K could begin as early as week 17, as soon as key stage J is completed. Key stage K is therefore said to have "slack." Key stage H (Agree print contract) has been placed to end at week 12. However, it could end as late as week 22, because key stage I (Print directory) does not begin until week 23. Key stage H is therefore said to have "float." Float time can be indicated on the chart by adding a line ahead of the bar to the latest possible end point. Slack and float show you where there is flexibility in the schedule, and this can be useful when you need to gain time once the project is up and running.